Nappy Bins
"A nappy unit service is vital in any washroom or baby change facility."
This is to ensure waste is disposed of appropriately and in accordance with the environmental protection act 1990.
Elite can provide a discreet and professional service for the disposal of nappy waste. Units are generally serviced monthly, fortnightly or weekly but can be adjusted to meet your needs. Our experienced staff can advise on the most suitable frequency for your establishment
Designed with robust performance in mind, our Nappease units have a large has a large 60 litre capacity and easy to service features.  With a large, easy to use pedal and contemporary, easy to wipe down design the Nappease also offers end users a simple solution to dispose of nappy waste.
Large 60 litre capacity to suit a range of service cycles
Large capacity makes it ideal for high traffic washrooms
Bright yellow finish
Contemporary, easy to wipe down design
Designed to offer reliable, robust performance
Sloped lid prevents heavy items such as bags being placed on top, reducing the risk of breakage
Pedal operated for hygienic, no touch disposal of waste
Discreet, low friction modesty flap hides bin contents from view
Manufactured from ABS plastic for superior performance
Bag tidy hooks prevent liners from slipping during use
Hidden clip for freshener sachets to ensure powerful, pleasant fragrancing between services
Quick, tool free access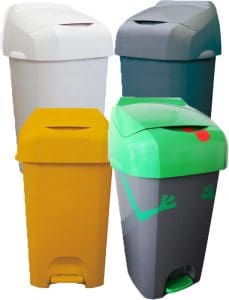 Dimensions & Waste Capacity
60 litres
Height – 76 cm
Width – 44 cm
Depth – 41 cm