Clinical & Medical Waste Disposal
Elite Washrooms offers clinical waste disposal services to businesses and organisations. Our services are a cost effective and high-quality solution to any business that produces controlled waste, this includes medical waste disposal, sharps disposal bins and any other waste that poses a risk to public health or the environment.
If you deal with clinical waste on a daily basis it is vital that you know how to dispose of the waste safely and efficiently. We are an experienced clinical waste company that you can trust and offer clinical waste collections that you can rely on.
Clinical waste is defined in the Controlled Waste Regulations 1992 and it means any waste which consists wholly or partly of:
Human or Animal Tissue
Blood, Bodily Fluids or Excretions
Drugs or other Pharmaceutical Products
Swabs or Medical Dressings
Syringes, Needles or other Sharp Instruments (Sharps)
Any other clinical waste that can be infectious or contaminated
Clinical Waste Disposal
As an employer with first aid facilities, as required by law, you will be producing Clinical Waste and as such you have a legal Duty of Care with regard to the disposal of such wastes.
Please read the very important information under Duty of Care, Waste Management Regulations and take just 10 minutes out to complete our Risk Assessment all of which will help you to understand the importance of choosing the right Washroom Services provider or Contact Elite for some expert advice.
Our clinical waste disposal services are available to any business that requires it including hospitals, doctors surgeries, nursing homes, clinics and health centres, veterinary practices, schools, dental practices, and works medical facilities.
Sharps Disposal Bins
Elite's range of sharps containers and disposal bins are designed for the safe storage and disposal of contaminated needles and medical sharps.
All units are impenetrable and seepage proof with a self-locking final closure and conform to British Safety Standards. The range includes units for the clinical waste disposal of non-medicinal sharps and sharps containing or contaminated with medicines.
All of our sharps disposal bins are available in an assortment of sizes and can be exchanged on a multiple of service frequencies, eg: weekly, fortnightly, monthly and annually.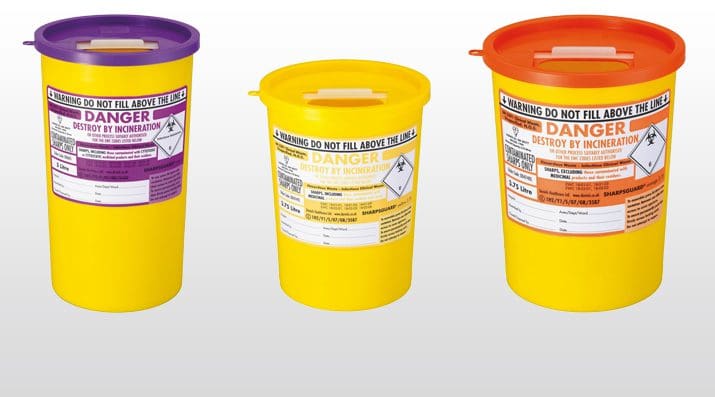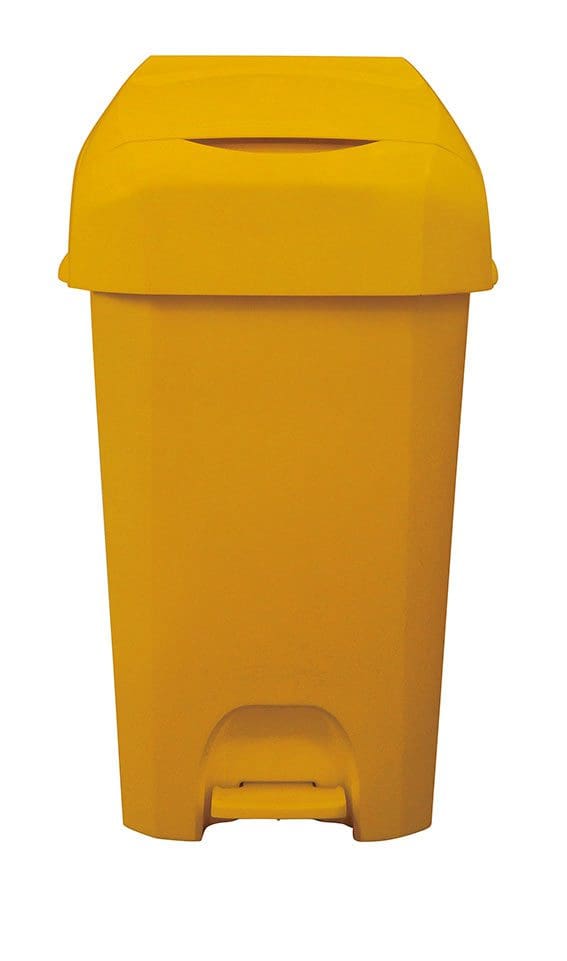 Medical Waste Disposal Bins
Our Medical Waste disposal bins provide a practical solution for all producers of controlled healthcare waste.
Our MEDINA clinical waste disposal bins are specifically designed for the medical waste disposal of swabs and dressings.
The Medina has a large 60 litre waste holding capacity while remaining compact, modern and attractive in design.  All of our medical waste disposal bins are constructed from a robust easy-clean plastic and come complete with an antimicrobial medical waste bag which kills 99.9% of bacteria upon contact,
A simple pedal operation offering a hands free disposal helps to further reduce the risk of cross infection whilst providing a quick and simple means of medical waste disposal into the large 60 litre capacity bin.
All of our clinical waste bins are available on a multiple of service frequencies, eg: weekly, fortnightly & monthly.