The Air-Steril
Elites Air-Steril Ozone Generators offer a permanent 24/7 system which guarantees to eliminate odours and control infections in any enclosed space.
In business, offensive odours can affect sales and profit, in healthcare they can attract poor CQC reports. Standard cleaning procedures offer only temporary solutions. As soon as an area is cleaned and then re-used, bacteria return and grow at a rapid rate bringing the smells back until the next cleaning session.
Fragrances use chemicals to mask odours – they do not remove the causes of the odours.
The Air-Steril air purifier utilises dual lamp ultraviolet light operating at the peak UVC wavelengths, creating germicidal irradiation, hydroxyl radicals, superoxide ions, plasma quatro and optional Ozone.
This process freshens the air by killing airborne pathogens, viruses, bacteria, fungi, mould spores, dust mites, allergens and by decomposing odours and harmful gases.
Offensive odours are created by bacteria and volatile organic compounds (VOCs) found in the air. Many infections and viruses are spread by aerosol processes. Moulds and fungi are also carried in the air, damaging buildings and causing respiratory complaints. What's more bacteria, viruses, moulds and fungi carried in contaminated air are deposited on exposed surfaces making enclosed rooms very unhygienic for most people.
Our AirSteril uses innovative technology which guarantees to eliminate odours and control infections in all enclose spaces without the use of chemicals or filters.
The Air-Steril Features & Benefits
Helps to eradicate offensive odours in the work place, including toilets, kitchens and toilet leading corridors
Helps to destroy infections and illnesses by killing bacteria, viruses and moulds using a combination of Ultra-Violet, ozone and plasma technology
Ideal for locations with limited air flow
Cleans and rejuvenates the air we breathe
Eliminates unpleasant malodours
Brings outdoor freshness indoors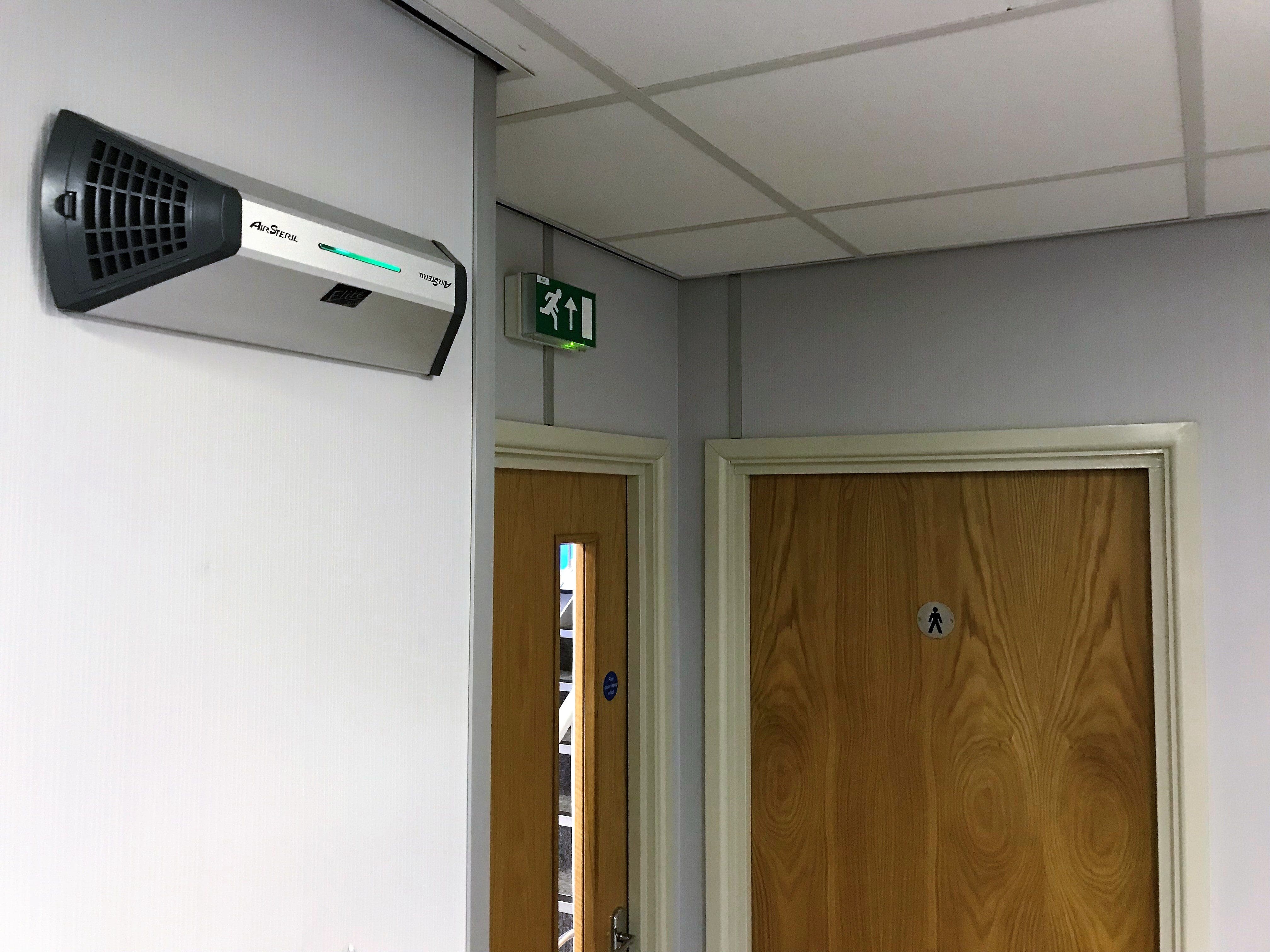 The Air-Steril Specifications
| | |
| --- | --- |
| Dimensions | 450mm (L) x 140mm (W) x 100mm (D) |
| Operation | 100/240 VAC |
| Installation Options | Fixed or portable application |
| Approvals | TÜV SÜD and CE Approved |
| Standards | EN 60335-2-65/A1:2008 EN 60335-1/A15:2001 EN 62233:2008 |
| Voltage | 100-240V / 50/60 Hz / Fuse rating 13A |
| Power Rating | 17 watts |
| Finish | White, Stainless & Chrome |