Sharps Disposal Bins
Any facility where needles are used will require sharps disposal bins.
Elite Washrooms supply sharps disposal bins to companies who require a sharps disposal service.
"As an employer with first aid facilities, as required by law, you will be producing Clinical Waste and as such you have a legal Duty of Care with regard to the disposal of such wastes."
Please read the very important information under Duty of Care, Waste Management Regulations and take just 10 minutes out to complete our Risk Assessment all of which will help you to understand the importance of choosing the right Washroom Services provider or Contact Elite today for some expert advice.
Sharps Containers
Elite's range of sharps containers and sharps disposal bins are designed for the safe storage and disposal of contaminated needles and medical sharps.
All sharps disposal units are impenetrable and seepage proof with a self-locking final closure and conform to British Safety Standards. The range includes units for the disposal of non-medicinal sharps and sharps containing or contaminated with medicines. Under your legal Duty of Care, it is very important to safely dispose of needles, blades and other sharp medical objects.
All of our sharps disposal bins are available in an assortment of sizes and can be exchanged on a multiple of service frequencies to suit your needs, eg: weekly, fortnightly, monthly and annually.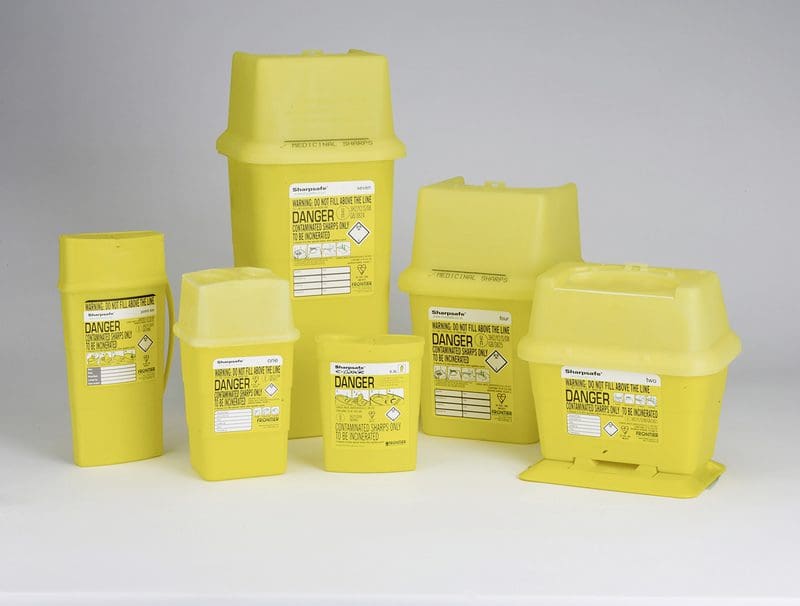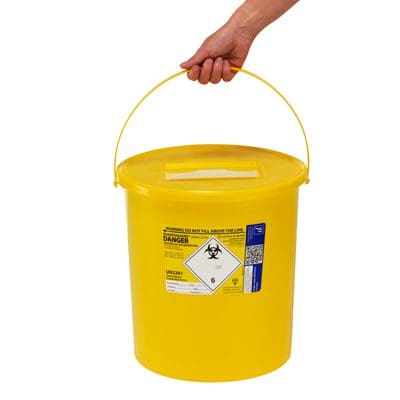 Sharps Waste Disposal
Training and education of your staff is essential to ensure safe working practices.
This is essential to help protect people at all stages of the clinical waste disposal process. Elite is able to provide a wide range of UN-approved sharps disposal bins that will keep all staff safe from the risk of injury and infection.
Elite's frontline Service Engineers are fully trained to handle sharps disposal correctly and you can be confident that our reliable service will ensure that you will not be left with over-full clinical waste sharps bins which will pose a risk to your staff.